Forum Promotion Hosting Coupons & Deals
| | |
| --- | --- |
| Description | Link |
| Can't afford to spend money every month for hosting? Why not get free hosting via Forum Promotion. All you have to do is post on the forum, earn FP$ and use that FP$ to pay for hosting from USHost247. | |
Forum Promotion Domain Coupons & Deals
| | |
| --- | --- |
| Description | Link |
| Don't have a method to pay for a domain? Or don't have the cash to fund one? Earn FP$ on Forum Promotio by posting around and completing offers for users and then use the FP$ to buy a domain name of your choice from the official shop! | |
Who are Forum Promotion?
Forum Promotion is a webmaster forum that focuses on internet marketing to assist webmasters and admins with making their projects successful.
The forum has a promotion directory to help you gain exposure for your project, a marketplace and exchanges section to trade with other webmasters to grow your site and official services including posting services, advertisements and reviews.
With over 1 million posts and 25,000+ members, the site is the ideal place to help you "dominate the online market".
Why choose Forum Promotion?
Unfortunately, not everyone has the ability to pay for domains and hosting or have the funds to do so. If this is the case, Forum Promotion is the perfect solution for you as it allows you to earn a domain and hosting for free for simply posting around on the forum and completing offers for other users.
Additionally, being a member of Forum Promotion will provide you with other benefits as a webmaster and admin including being able to advertise your site, complete exchanges to grow your site etc.
How to use Forum Promotion Coupons & Deals?
Step 1. Register an account with Forum Promotion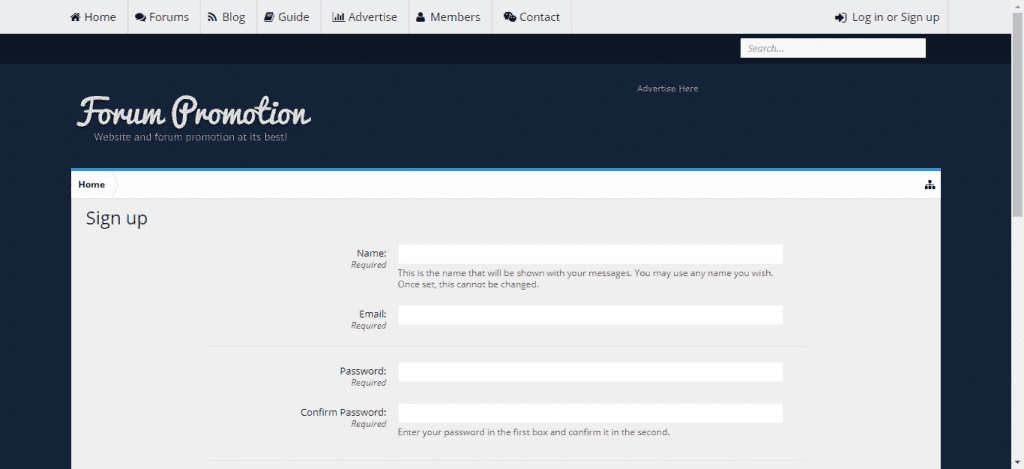 The first step, as with any site, is to create an account with Forum Promotion. Once this is done, you can get started on earning a domain and hosting for your online project.
Step 2. Earn FP$
The virtual currency on Forum Promotion is called FP$. The main method of earning FP$ is to post around on the forum although there are easier and better ways of making FP$ quickly including completing offers for other users on the "Forum Cash Exchanges" section. This is where other users will pay you FP$ to do something on their sites including posting, liking a page etc.
Step 4. Redeem a domain or hosting offer
Once you have collected the right amount of FP$, you can go ahead and redeem a domain and hosting for your online project, the links for which are provided above.
If you are looking to purchase a domain, this can be done through the official Forum Promotion shop and will set you back 6000FP$ for a domain of your choice for 1 year. Furthermore, you can choose to transfer the domain to your own NameCheap account after a while or keep it with Forum Promotion so that they can renew it for another 6000FP$ if you wish.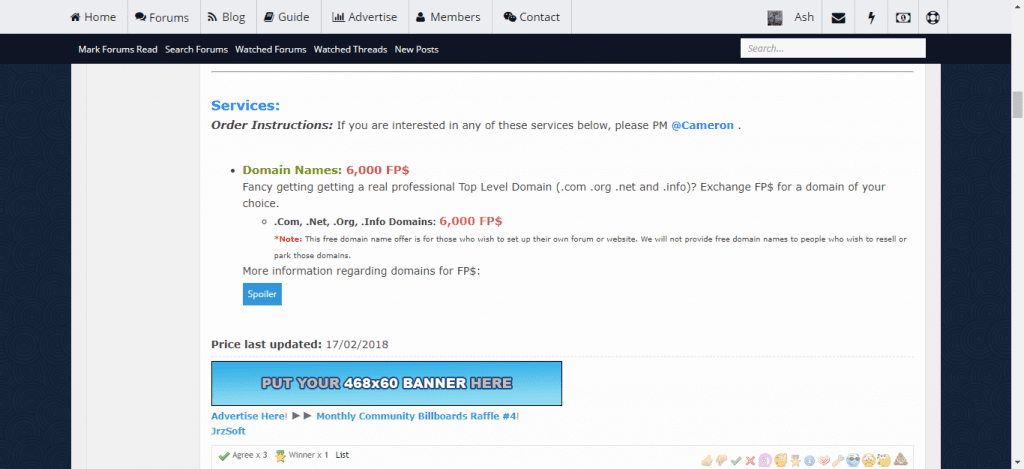 In terms of hosting, this is offered as a private offer by a moderator (and owner of USHost247). You can simply contact the owner (@ChrisGrigg) on Forum Promotion, follow the instructions on the offer thread, send the FP$ and everything will be sorted out. You can choose to pay annually or pay the FP$ monthly.
Problems & Questions Regarding Coupons & Deals
The community at Forum Promotion is friendly and helpful so if you encounter any problems or have any questions, these will be resolved quickly and easily. Additionally, as a member over at Forum Promotion myself, I can help you with any issues or questions. Feel free to leave a comment below, send us an email or message @Ash on Forum Promotion.
To take advantage of future coupons & deals at Forum Promotion and other companies, make sure to subscribe to the Admin Loop newsletter to receive them right to your inbox.
Ash
I'm Aakash, a developer based in London, United Kingdom. I love watching TV shows & movies, playing games and building websites in my pastime. Ever since I first used the internet, I have always been fascinated by websites, blogs, forums and software so it's no surprise that it's now my passion.
Related posts
I would like to learn about…