GamiPress is a WordPress plugin that allows you to "gamify" your WordPress project in just a few minutes and allowing your users to be rewarded for interacting with your site.
The plugin adds various functions to your site and helps give your users an interactive element to your site through the inclusion of points, achievements and ranks.
But how can this help your online project? And what exactly can it add to your WordPress site? In this review, we'll tell you exactly why it is an amazing and must-have plugin for you.
Main Features
Points
Points are one of three features that GamiPress adds to your site. You will be able to add as many point systems to your site as you want which can then be awarded to your users for interacting with your site. For example, you could create Coins, Credits, Gems etc., all with their own balance and methods of earning it.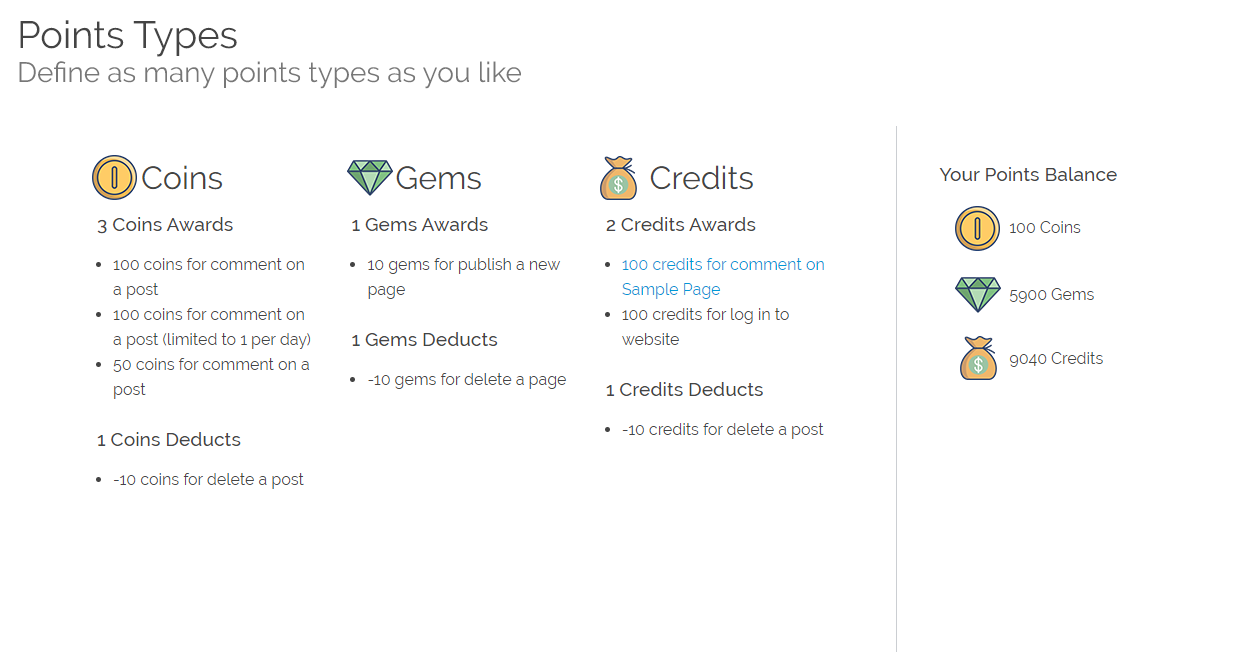 Achievements
Achievements will let you give out awards to users for completing certain requirements. Additionally, you can combine these requirements to create awards that take multiple actions to earn.
Ranks
Ranks will allow your users to rise through various ranks and compete with other members of your community.
Available Add-Ons
Whilst the plugin itself is free, GamiPress has a large collection of premium and free add-ons that help extend what you can achieve on your WordPress site.
A large number of the free add-ons included are for integrations with third-party plugins on WordPress. One good example is the WpForo integration that Admin Loop utilises to extend GamiPress functionality to our forum. With this, we can reward our users for creating topics and replying to topics on our Community Forum.
Other add-ons include (include add-ons below start from $49):
Transfers – Allow your users to transfer points, achievements and ranks with other community members
Purchases – Allow your users to purchase points, achievements and ranks
Notifications – Notify users when they earn rewards instantly
How will GamiPress help my project?
With a large number of blogs and forums out there for a large number of niches, it's important to offer something unique and fun for your users. GamiPress does exactly that by giving your users something interactive to enjoy on your site. With points, achievements and ranks, your users have a bigger incentive to visit your site and interact with it.
Furthermore, GamiPress is compatible with any modern theme and "just adds positional styles which will allow you to better customize everything for your specific needs".
Are there any issues?
As a GamiPress user ourselves, we haven't encountered any problems with the plugin. Various functions and options that they offer are more than what we expected of the plugin including offering time limits where you can limit a user on how much they can make per day, week, year etc.
However, point additions and deductions are slightly basic when compared to point systems on other software. One limitation that we noticed with the WPForo Integration is that there isn't an option to stop users from earning from posting on certain forums. The only solution is to deduct whatever they earned when they make a post in a specific forum.
With a slim number of issues, GamiPress is a great plugin that adds functionality to your site to make it a fun and interactive experience. Will you be trying out GamiPress on your WordPress site?
If you have any questions or issues, feel free to leave a comment below, post on our Community Forum or send us an email.
Ash
I'm Aakash, a developer based in London, United Kingdom. I love watching TV shows & movies, playing games and building websites in my pastime. Ever since I first used the internet, I have always been fascinated by websites, blogs, forums and software so it's no surprise that it's now my passion.
Related posts
I would like to learn about…